If you read this blog, you know that I've been a bum for the past few weeks. I've been a worry wort and a homebody. But thank goodness for good friends who get me out of the house and force me to get good sushi. (Thank you Lauren and Matt). My sweet friends invited me along to dinner to a sushi place I have never been to, Wild Wasabi. I'm pretty shocked that there is a well reviewed sushi place out there that I haven't tried. But there was! Wild Wasabi is located in Cummings Station, a place that I don't frequent nearly enough. But, with recent additions of Coffee Lunch and the Brick Factory (which is actually joining forces with Zombie Shop at a new location), I've been finding myself there more often. I guess I never noticed the bustling sushi place.
We got there at about 7:30 and met the rest of our party. We ordered quite promptly, at about 7:50. I'm going to get the one major negative point out of the way first: It took an HOUR AND A HALF to get our food. Raw food. Food that doesn't require heat.
Ok. Now that that's out of my system. Do you see that menu? The sushi menu is a big page of pictures. I know it's pretty kindergarten, but I love it. I get to know exactly what my roll will look like. And I must say, the sushi chefs hit the mark. It isn't like ordering a 7 layer burrito at Taco Bell and realizing that it doesn't look a thing like the picture on the drive-thru wall.
While we were waiting (and waiting) for our food we had some sake. The sake arrived at our table quickly and was hot. The food, not so much. My friends who were regulars insisted that this was a freak occurrence and the food usually comes quickly. Well they were slammed this Saturday night. Two sushi chefs, two waitresses and every table was full. Oh oh. The natives were getting restless.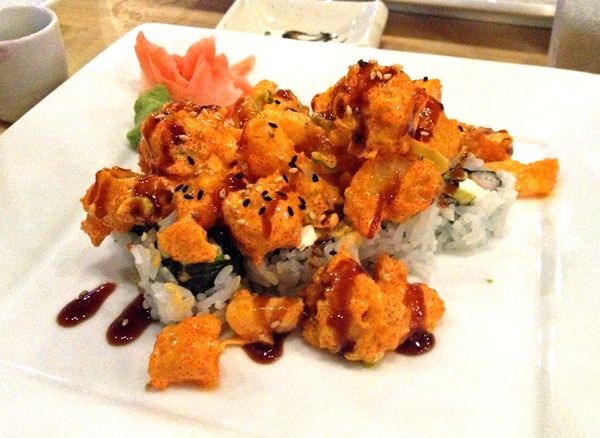 Just as we were ready to throw the towel in and pick up a pizza and head home, our food arrived. While I won't say "it was worth the wait" I will say that they make some damn fine inventive sushi. That lovely plate above is the the This Is How We Roll. The name is stupid, but the taste is not. I do not remember at all what is inside of this and I can't seem to find a complete online menu. But- that is tempura spicy shrimp stuff on top. And it is addicting.
This other beauty is the Hawaiian Roll. It had crab, tamago, rice paper wrap, kiwi and coconut. Lately I've been enjoying fruit in sushi. Samurai also does this and I'm a fan. I really like the wide variety of fruit sushi on Wild Wasabi's menu. It isn't traditional, but hey, it works.
And to keep with tradition I ordered some salmon sashimi. The salmon was fresh and it was sliced to the perfect consistency.
So I'll admit, I hate to give bad reviews. Especially when the food is so good, like in Wild Wasabi's case. I just couldn't get over the massive wait for dinner. I think I would have felt better about the wait if they told us what was happening, brought us an appetizer on the house, or comped our drinks as a mia culpa. I felt that the staff could have done a bit more. Yesterday I decided to give Wild Wasabi another shot and I went back for their famous lunch buffet.
The lunch buffet is AMAZING. Generally, I hate the words "all you can eat sushi buffet." It congers up images of rotting fish and stomach flu (RuSan's I'm looking at you). Not the case at Wild Wasabi. For $11 you get all you can eat sushi, some hot dishes, and made to order hibachi. They are so packed at lunch that the sushi is refreshed every 10 minutes. In addition to a few old standards, they even had 3 of their more adventurous rolls available.
So, to sum it up, the sushi at Wild Wasabi is very good. The lunch buffet is great and a really good deal if you ask me (plus there is no waiting for your food). I feel like I need to go back on a weekend night and see how the service is. But, I'm still a fan.